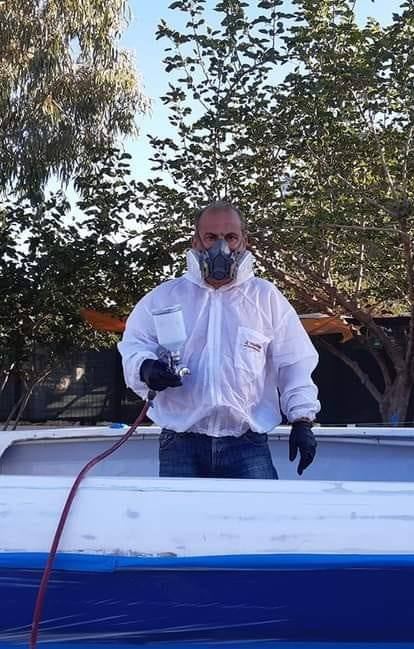 Boat Service Freelance
Pappas Dimitris - Boat Repairs - Itea Amfissa
The company Boat Service Freelance of Mr. Pappas Dimitris in Itea Amfissa is active in the maintenance and repair of yachts, taking care with knowledge and passion for everything your boat needs.
With over 20 years of experience in yachts or professional, the manager of the company Pappas Dimitris is an expert in gel coat, copper coat, stainless steel, anti-osmotic protection, airless painting.
With training from the company 3M marine undertakes every job with a guarantee for the best result, thanks to experience, know-how and consistency, while providing competitive prices.
Painting with Gel Coat

Almost all polyester boats (inflatable boats, speedboats, sailboats, motor yachts) are made of Gel Coat).
The gel coat is the outer shell (paint) of any polyester object. Its quality, its technical specifications and its perfect chemical composition are basic elements that must be evaluated with strict guidance by every manufacturer, shipyard and boat owner before choosing it. A superior gel coat always offers perfect gloss, resistance to osmosis, mechanical strength and timeless value in the final product.


Crossing with CopperCoat

CopperCoat is the obvious choice for homeowners looking for increased performance with reduced overall costs. It achieves this with complete success thanks to the following features:
Unlike common medicines, CopperCoat stays active for many years. A proper coating is proven to stay active for at least 10 years. The very first boats that were passed with CopperCoat about 15 years ago, are still clean!
The combination of high copper content, combined with a unique composition of biochemicals, ensures a clean hull on your boat. More specifically, owners report higher speeds at lower revs, which translates into fuel economy and lower engine wear.
CopperCoat, is a self-cleaning ant and is based on a waterproof resin mixture, which has the effect of protecting the hull against osmosis.
End the difficult and chronic process of removing the old and passing the hull with a new medicine. With CopperCoat, almost every year, in the water you can rub it lightly with a scotch-bright sponge (CopperCoat does not detach from the hull of the boat, thus making it a safe product for the cleaner since the active biocides useful for common ants do not exist in CopperCoat) or if you take it out of the water just rinse the hull with water pressure, to remove any thin layers of slime and it is ready.

Because CopperCoat is resin-based, it does far less harm to the environment than other common medicines. In full installation, CopperCoat has been inspected and approved by the Health and Safety Committee, with acceptance of this inspection and in accordance with UK and EU law.
Coppercoat consists of copper powder over 99% purity. In this way, it guarantees the production of a very strong antiparasitic agent, copper oxide.